Demystifying Moissanite: An Educational Guide to Understanding and Appreciating Moissanite Rings is an in-depth guide for anyone interested in learning more about the wonders of moissanite. From its history and origin to its use as a modern alternative to diamonds, this comprehensive guide will help readers gain insight into why moissanite has become such a popular choice for engagement rings, wedding bands, and other jewelry pieces.
With detailed information on the different types of moissanite available, how they compare to diamonds in terms of cost, quality, and color options, as well as tips on choosing the right piece – Demystifying Moissanite provides all the necessary tools for making informed decisions when buying jewelry with this unique gemstone.
1. Introduction to Moissanite: What is it and Where Does it Come From?
Moissanite is a unique and beautiful gemstone that has been used in jewelry for over 20 years. It was first discovered by Nobel Prize-winning scientist Henri Moissan in 1893 while he was studying meteorites near the Arizona-Mexico border. He thought he had found diamonds, but upon further examination, realized they were silicon carbide crystals. Although moissanite closely resembles diamond in its appearance, it is not a diamond or any other type of natural gemstone; instead, it is a lab-created stone composed of carbon atoms arranged in a hexagonal crystalline structure making it exceptionally strong and durable.
Its hardness rating on the Mohs scale places moissanite at 9.25 – second only to the diamond with 10 being the highest score – making it extremely resistant to scratches and chips as well as heat and chemicals which can cause discoloration or damage to some gems like sapphires or emeralds. The beauty of moissanite lies in its brilliance which comes from its ability to refract light giving off rainbow sparkles from every angle creating an unforgettable visual effect when set into rings or earrings.
2. The Benefits of Choosing a Moissanite Ring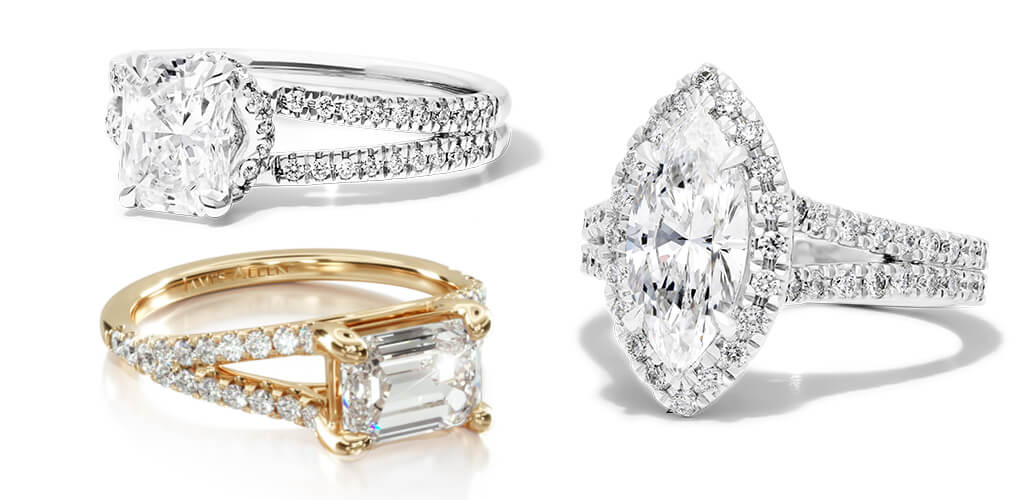 Moissanite rings are gaining popularity amongst those looking for an alternative to traditional diamond engagement rings. Moissanite is a lab-created gemstone with many of the same qualities as diamonds, but at a fraction of the cost. In addition to being more affordable than diamonds, moissanite also offers several other benefits that make it an attractive choice for anyone considering an engagement ring.
For starters, moissanite is extremely durable and scratch-resistant, making it ideal for everyday wear. The stone also has excellent light refraction properties which make it sparkle brilliantly in any lighting condition. Furthermore, since moissanite is lab-created rather than mined like a diamond, there's no need to worry about unethical mining practices or supporting conflict diamonds when choosing this option.
All in all, selecting a moissanite ring can be a great way to get all the beauty of a diamond without breaking your budget or compromising on ethical considerations!
3. Comparing the Durability, Brilliance, and Value of Diamonds vs Moissanites
Moissanite is a gemstone created from silicon carbide crystals. It has become increasingly popular as an alternative to traditional diamonds, due to its durability, brilliance and value. Moissanite offers many advantages over diamonds when it comes to these properties. First of all, moissanite diamond is extremely durable and resistant to scratches or chips; in fact, it ranks second only to diamonds on the Mohs hardness scale.
Additionally, moissanites possess more fire and sparkle than diamonds because they have a higher refractive index rating that reflects light better. Finally, compared with the cost of an equivalent diamond quality cut stone, moissanite can be up to 80% less expensive – making them a great option for those looking for affordable luxury jewelry.
4. Understanding Different Cuts & Colors of Moissanites
Moissanites come in many different cuts and colors, each with its own unique properties. Round Brilliant is the most popular cut for moissanite rings, as it provides excellent brilliance and sparkle. The Princess Cut has a square or rectangular shape that is perfect for those who want an elegant but modern look.
Oval shapes are great for people who like softer lines in their ring design. Marquise-cut moissanite stones have pointed ends and create an elongated silhouette on the finger while cushion-cut stones offer a timelessly classic shape. In terms of color, Forever One moissanite are colorless to nearly colorless making them appear more like diamonds than other colored gemstones; they range from D-E-F (colorless) to G (nearly colorless).
Other options available include yellow gold or champagne hues which can add a unique touch to your ring design without taking away from the brilliance of the stone itself. Colorless Moissanite is also offered in various shades including Grayish White, Cool Grey, or Blue Grey with some being greyer than others depending on your preference.
5. Care Tips for Your New Moissanite Jewelry
When it comes to taking care of your new Moissanite jewelry, there are a few tips that can help keep it looking like new for many years to come. Avoid contact with harsh chemicals, as they can erode the surface of the stone over time. Regularly clean and inspect your piece for any signs of damage or wear on the setting, such as loose prongs or thinning metal.
When not in use store it away from direct sunlight and extreme temperatures which may cause discoloration or brittleness. Finally, ensure your jewelers have high standards when cleaning and polishing your pieces–using too much heat can weaken or damage the structure of Moissanite crystals. With these simple steps, you should be able to keep your beautiful Moissanite jewelry sparkling!