Fiberglass-reinforced epoxy is an incredibly versatile material. It combines the strength of fiberglass with the resilience and corrosion resistance of epoxy, making it ideal for a wide range of applications.
From aerospace components to medical devices, as well as construction materials like boats and bridges, fiberglass-reinforced epoxy has become essential in many industries. In this article, we'll explore the benefits and uses of this remarkable composite material – as well as its future potential.
We will also discuss how manufacturers can leverage these unique properties to create products that are stronger, lighter, and more durable than ever before.
Fiberglass-Reinforced Epoxy: What Is It?
Fiberglass-reinforced epoxy is a composite material made by combining epoxy resin with fiberglass strands. It offers superior strength and durability compared to other materials, making it ideal for use in a variety of applications.
The combination of the two components works together to provide a strong bond that can withstand high temperatures, extreme weather conditions, and chemical exposure without losing its integrity or structural stability. This makes it perfect for applications such as boat hulls, water tanks, aircraft parts, and piping systems where corrosion resistance and longevity are important factors.
In addition to these benefits, fiberglass-reinforced epoxy also boasts excellent thermal insulation properties which make it attractive for construction projects where energy efficiency is sought after. Furthermore, due to its lightweight nature, this material can be used in structures that require less support than traditional building materials while still providing sufficient strength and resilience against external forces.
Benefits of Fiberglass-Reinforced Epoxy
Fiberglass-reinforced epoxy is a highly durable material that has many benefits over other materials. It is resistant to corrosion and chemical damage, making it ideal for use in harsh environments.
Additionally, its light weight makes it easy to transport and install. The material also has excellent electrical insulation properties, which makes it suitable for applications where electric currents must be kept isolated from vulnerable components or systems.
Furthermore, fiberglass-reinforced epoxy boasts superior strength and flexibility compared to traditional materials such as steel or aluminum; allowing structures built with the material to better withstand impacts or changes in temperature without breaking down quickly like other materials might do.
Finally, fiberglass-reinforced epoxy can easily be customized into different shapes and sizes depending on the needs of the project at hand; saving time and money during production processes while still maintaining high-quality results.
As such, this versatile material provides a wide range of advantages for both commercial and residential use; ensuring safety, reliability, cost-effectiveness, and longevity all at once!
Uses for Fiberglass-Reinforced Epoxy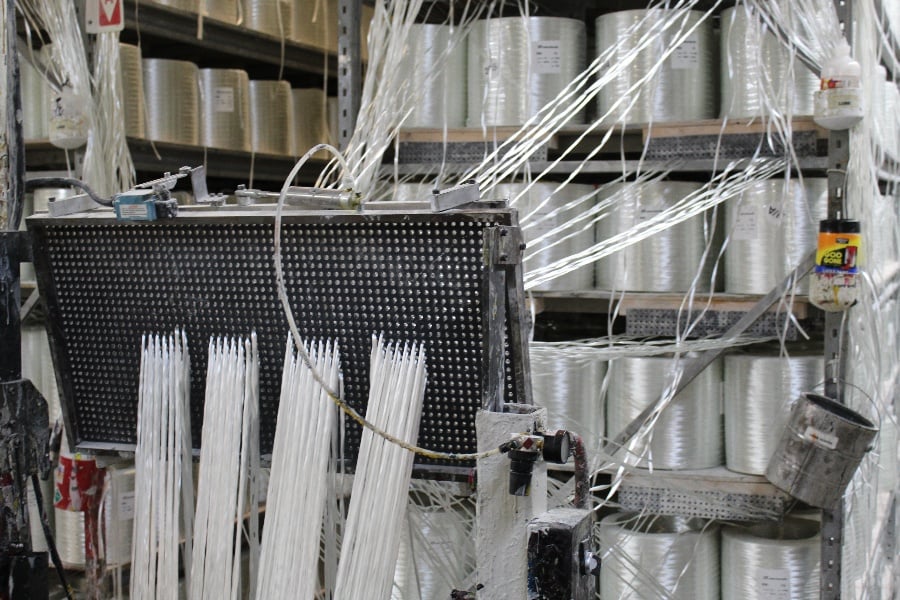 Fiberglass-reinforced epoxy is an increasingly popular material used in a variety of applications. Its strength and durability make it ideal for construction, engineering, and industrial projects.
Fiberglass-reinforced epoxy can be used to construct bridges, buildings, boats, vehicles, and other structures. It is also commonly used to create molds for parts production as well as protective coatings on tanks or pipelines that need to withstand extreme temperatures or corrosive environments.
This type of epoxy has proven effective in the aerospace industry where its ability to resist high temperatures makes it invaluable for use on commercial aircraft. In addition, many automotive components such as engine blocks are being made with fiberglass-reinforced epoxy due to its superior strength and lightweight properties compared with traditional alloy materials.
Furthermore, fiberglass-reinforced epoxy has been successful in medical devices because of its non-toxicity making it safe for contact with human skin. With all these uses for this versatile material, there's no doubt that we will continue seeing more applications of fiberglass-reinforced epoxy in the coming years.
Conclusion
Fiberglass-reinforced epoxy is an incredibly versatile material, with a variety of potential uses in many industries. It has several major benefits such as its lightweight properties, strength, and durability for the long term.
Fiberglass-reinforced epoxy can be used to create parts for aircraft, automobiles, and medical equipment due to its strong structural integrity and electrical insulation capabilities. Its shock-absorbing characteristics also make it ideal for marine use and other applications where water resistance is needed.
With advancements in fiberglass technology, the future of fiberglass-reinforced epoxy looks very promising as it continues to improve upon existing materials with better performance at a lower cost.